Lúcia de Brito Franco
Montana, USA
Born in Lisbon, Portugal in 1978, Lucia begins to paint during her teens. Learning oil painting and drawing with the painter Artur Ramos. Studies watercolours in England. Oil painting and drawing at Ar.Co in Lisbon, and Architecture at the University of Lisbon.
Having a strong connection to the ocean, the mountains, the wild and human territories. Lucia lives and paints from three very distinct places: Columbia Falls, by Glacier National Park, in Montana, Faial Island, in the Azores and Lisbon in Portugal.
Lucia has exhibited her work in solo and collective exhibitions throughout Portugal, the Azores, Switzerland and Montana. Her work is part of several private art collections in Europe, United Kingdom and the USA. Her work is exhibited at Montana Modern Fine Art Gallery, in Kalispell, MT.
Website:
Luciadebritofranco.com
Email: luciadebritofranco@gmail.com
Instagram: luciabfranco
My art is born from a deep connection with nature. The paintings are built upon layers of paint, structured from different levels of awareness. Initial stratum capture experiences that are visually unexplainable: The temperature, the darkness, the taste of water, the force of ocean currents, the scent of a forest, the ocean breeze, the exciting feeling of an encounter: in Montana, with grizzly and black bears, in the Azores with sharks and rays. Imprinted on the surface of the painting is the vibration of the light: swirling underwater, shining above the ocean, flickering on the tree leaves, illuminating the skin. Among many aspects of the living experience which are expressed in my art, I am particularly fascinated by natural light and water.

RED

2014
Notes on the inspiration: Walking through the volcanic lava rock paths in the Azores, as the sun is shining after it rained, illuminating the wet red gravel. The colours became utterly intense.
Acrylic on canvas 80 x 80 cm


Gold Blue
2017
Notes on the inspiration: while in the ocean, I feel the miracle of life pulsating.
Acrylic on canvas 100 x 100 cm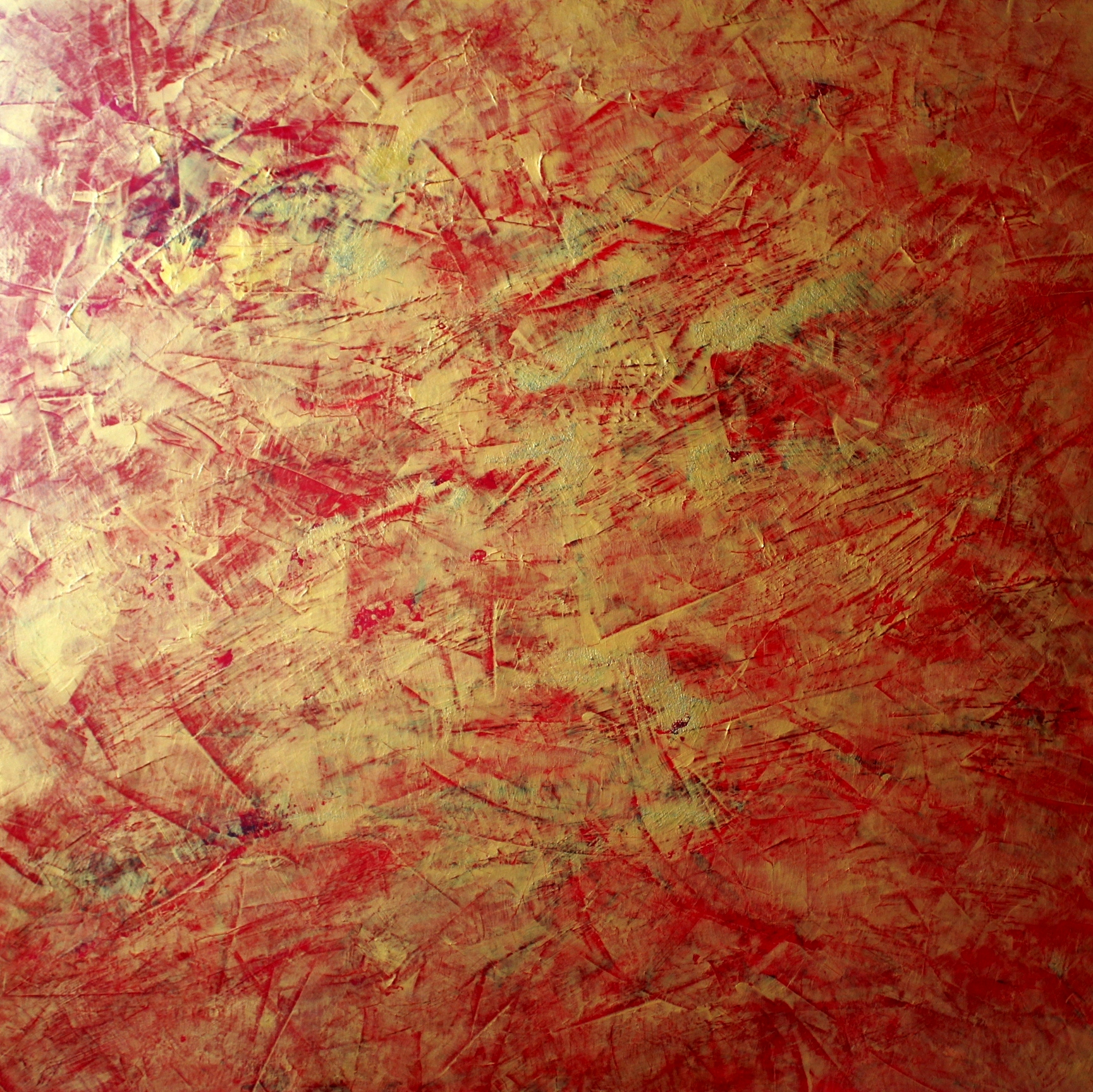 Gold Red
2017
Notes on the inspiration: on the mysteries of life, our precious body.
Acrylic on canvas 100 x 100 cm
In the Realms of the Wild
2017

Notes on the inspiration: While free diving with the blue sharks in the Azores, I feel excitement and awe. The 5 sharks, that inspired this painting, were elegantly over 3 meters long, they had tales of war: hooks on their jaws, fins with chopped off parts, cuts and healed wounds. Yet, they enquisetly came near us to check us out. The red in this painting, isn't blood, it's the representation of my excitement.
Acrylic on canvas 120 X 200 cm
Strong
2017
Notes on the inspiration: Feeling strong and alive, the beating heart, the blood running through the veins.
Acrylic on canvas 100 x 100 cm
In the Realms of Love
2018
Notes on the inspiration: celebrating the encounter, in love.
Acrylic on canvas 100 x 100 cm
Wild Horse
2018
Notes on the inspiration: Sailing at Flathead Lake, in Montana. It's calm, but suddenly there can be strong gusts. We anchor by Wild Horse Island, jumping in the clear waters, as the eagles fight for fish. The ponderosa trees growing taller than the sky, we climb out of the cold water, into the hot peables on the beach, a deer drinks from the lake. We warm up sitting on a tree trunck, the big horn sheep have a glimpse of us. We hike through the woods and look above, as the night brings in the stars.
Acrylic on canvas 91 x 122 cm

The Light near the coast
2020
Notes on the inspiration: while freediving near the coast, the sunlight illuminates the black rocks with white algaes. Acrylic on canvas 100 x 100 cm


The Light

2020
Notes on the inspiration: the sun light rays into the blue, on a calm day.
Acrylic on canvas 100 x 100 cm

The Light Dancing

2020Notes on the inspiration: the sun light rays swirling into the blue, on a vigorous day.
Acrylic on canvas 100 x 100 cm