Ralph Almeida
Brooklyn, New York
Ralph Almeida is a Brooklyn-based, multi-disciplinary artist of Portugues descent.
His paintings, drawings, collages, and ceramic tile designs have been shown widely and installed in public and in private residences. Almeida's work draws from nature (animal, horticultural and landscape motifs), the history of decorative arts (from Ancient Egypt to William Morris to Marimekko) and Modernism (Miro, Calder, Klee, Kandinsky and others). New Yorkarchitecture and history has a significant influence on his work.
In the past he studied Textile Design and Fine Arts at The Fashion Institute of Technology while free-lancing as a textile designer. He has taught art classes, developed museum proprietary items, worked as an assistant art director of two independent films, explored fused glass, stained glass, pottery and illustrated his own children's book.
Most recently, Almeida has created a line of seasonally inspired masks for Covid-19 safety; a mosaic housewares line; a textile collection for home, bath and office in collaboration with Society 6; launched a virtual reality art galler and an ongoing series of illustrations for the poetry website Global Poemic.
As always, he moves fluidly from fine to decorative arts, through a multiplicity of media with an eye towards installation and utility.
He has exhibited broadly in NYC, New Delhi, India, Washington, DC, Las Vegas, NV, Connecticut, and Los Angeles, California.
Ralph's projects, interviews, merchandise, website and VR gallery can be seen at:
linktr.ee/RaffaArt
California Chagal - 2010
Acryclic on Canvas -36"x48"
Peacock Alley - 2015
Acrylic on Canvas - 36"x48"
In my acrylic painting and tile work, I employ fluid lines, organic and geometric forms, and a bold, polychromatic palette to evoke visceral, imaginative experiences. The natural and human worlds, abetted by art historical and mythological references, meet in eye-catching, pop-surrealist scenes intended to take the viewer on a journey away from the quotidian and into the realm of the spiritual and allegorical.
The Bounty - 2010
Acrylic on Canvas - 36"x48"
Galos Diptych
Acrylic on Canvas - Each Panel 18"x24
Azulejos Diptych - 2019
Acrylic on Canvas - Each Panel 18"x24



Each of my tile series grows iteratively into a mosaic iconography of fantastical forms inspired by folklore, nature, New York's built landscape, dream imagery, and the work of Modern artists such as Matisse. Portuguese azulejos, Sicilian majolica, Italy's Vietri and Deruta ceramics, and the trencadis of Gaudi's Barcelona are influences. Each new series is a universe unto itself, filled with pulsating colors, warm rhythms, and vital forms.




Pop Portugal - 2019
Ceramic Tiles - Each Tile 6"x6"
Alfama - 2019
Ceramic Tiles - Each Tile 6"x6"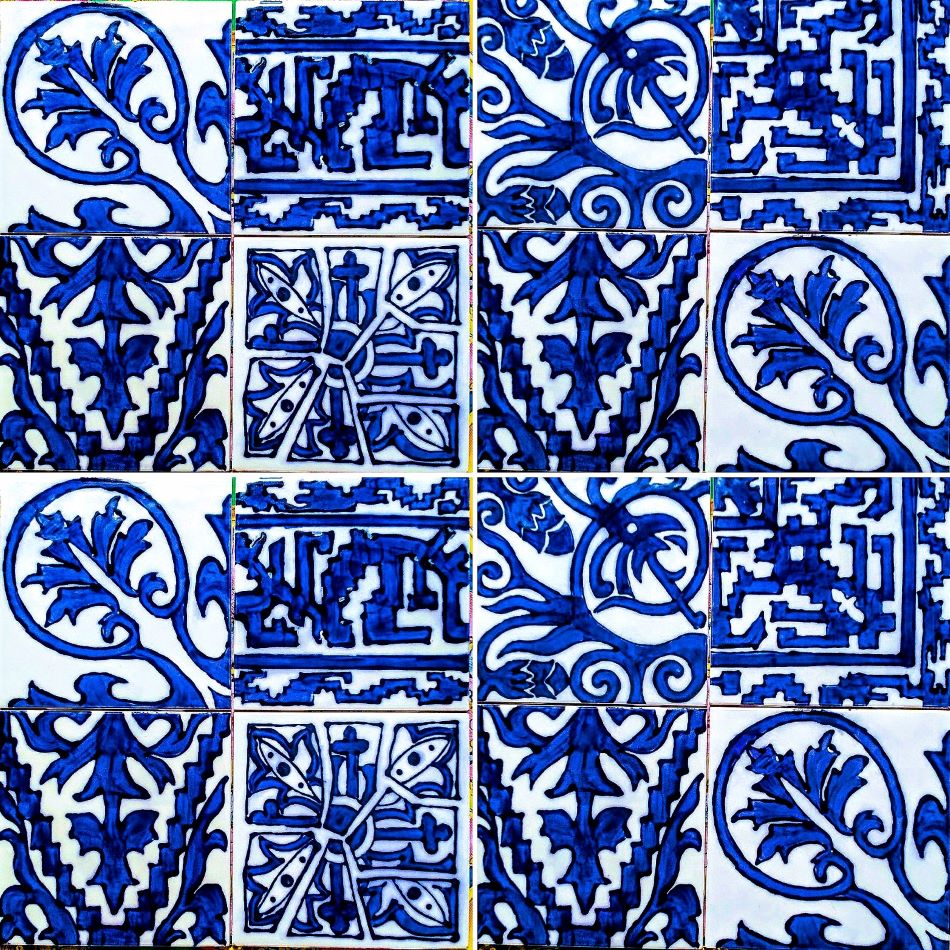 Barcelona - 2019
Ceramic Tiles - Each Tile 6"x6"
Fleur de Lis - 2021
Ceramic Tiles - Each Tile 6"x6"
Sicilian- 2019
Ceramic Tiles - Each Tile 6"x6"